Stand Up For Mental Health
The Covid-19 pandemic has had a profound impact on the mental health of individuals and communities.
Right now it is important to stay in tune with your mental wellbeing and check-in with your loved ones.
You never know what someone else is going through.
Raising Awareness Dates
Chad Guenter is a champion for mental health among the first responder community.

The Wolfe Pack Warriors Foundation is helping to raise awareness
about what Chad is doing with Project All In.
Canmore
When: Thursday, February 17, 2022 at 6:30pm
Where: Sheepdog Brewery

SOLD OUT
Chad's mental health presentation is ideal for Police, Military, Fire, and EMS as well as Retirees, Veterans, Dispatchers, Corrections Officers, Border Patrol, Bylaw & Peace Officers, Doctors of all Titles, Nurses, Task Force Teams, SAR, Mountain Rescue, Public Safety, Emergency Pilots, Industrial Rescue Teams, Coast Guard, Lifeguards, Tow Truck Drivers, Child Services, Teachers, Therapists, Social Workers, Councillors, Chaplins, Funeral Directors, Help Line Operators....and all those who love and support them.
Book Your Own Presentation
Starting Conversations About Mental Wellness with
First Responders and Frontline Workers
Project All In Foundation and "the coin" was created to help start conversations about mental wellness, help debrief calls and
ultimately to aid in suicide prevention.
PROJECT ALL IN'S MISSION
By honouring the core values of Goals, Gratitude, Strength,
and Sacrifice, Project All In provides tools and opportunities for
First Responders and Frontline Workers to begin the path towards
healing and recovery.
The All In Coin
The Project All In Coin was created to help those in the first responder community start a conversation about their mental wellness. One of the biggest hurdles to getting help is finding a way to ask for it. Years of experience on the front lines and leading first responders has given the creators of the Coin great insights on how to get past this first step of starting the conversation. The Project All In team decided to create the All In Coin as a catalyst for those seeking support.

The Coin is here to help. Members who have the All In Coin can simply slide it forward towards another member and a conversation is initiated. The recipient of the coin slide can be an active listener or start the conversation if need be. The coin may also be presented to a friend or family member.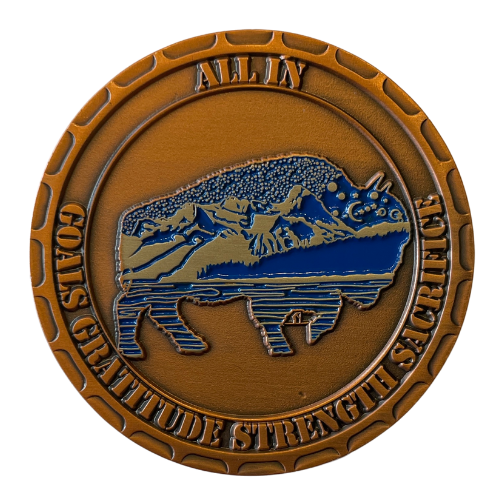 IF YOU OR SOMEONE YOU KNOW IS IN NEED OF IMMEDIATE INTERVENTION PLEASE USE THESE RESOURCES