---
---
POWER OF THE PACK
Women Celebrating Women in Alberta
International Women's Day
Monday, March 8, 2021
On International Women's Day, we hosted an online event celebrating and honouring women's achievements in our communities of Edmonton, Calgary and the Bow Valley. This event included a panel of women from our community sharing their stories and advice. Each woman offered insights into her life ranging from business success to balancing family, from continual education to self care.
Ideally, we would have celebrated International Women's Day in person. As this was not an option, we created an online event called Power of the Pack. This online event, was offered at no cost to those attending. Donations were accepted for the Alberta Council of Women's Shelters. Learn more about ACWS below. We want to ensure all women have access to educational opportunities and to be empowered to achieve their goals.
"Every woman's success should be an inspiration to another. We're STRONGEST when we cheer each other on."
– Serena Williams
---
IN SUPPORT OF
THE ALBERTA COUNCIL OF WOMEN'S SHELTERS
ACWS provides services to 40 member organizations as well as public awareness, education and training in communities across Alberta. Jan Reimer, Executive Director of Alberta Council of Women's Shelters, RCMP Staff Sergeant Colette Zazulak, and Donna Zazulak of the Wolfe Pack Warriors will speak on the current situation of domestic violence and what one should do if a team member notices that one of their co-workers is experiencing abuse.
---
BRINGING GREETINGS
Ashley Wolfe
President, Wolfe Automotive Group
Ashley Wolfe is a fourth-generation owner and operator of the Wolfe Automotive Group. In an industry historically dominated by men, Ashley is one of only a handful of women that operate an automotive dealership, let alone an automotive group.
Her Honour the Honourable Salma Lakhani
Lieutenant Governor of Alberta
Salma Lakhani was installed as Alberta's 19th Lieutenant Governor on August 26, 2020. Her longstanding service as a community leader and volunteer has been guided by her deep commitment to the values of pluralism and inclusion and her dedication to championing those who face barriers in life.
---
THE PACK OF PANELISTS
Ashley Wolfe
President, Wolfe Automotive Group
Ashley Wolfe is the President of the Wolfe Automotive group, comprised of five General Motors Franchises located in Edmonton (Wolfe Cadillac, Westgate Chevrolet, Western GMC Buick), Calgary (GSL GM CITY), and Canmore (Wolfe Canmore).
Ashley is a fourth-generation owner and operator in the automobile business. In an industry historically dominated by men, Ashley is one of only a handful of women that operate an automotive dealership, let alone an automotive group.
Ashley holds a Bachelor of Science in Justice Studies from Arizona State University and she's a graduate from the National Automobile Dealer Academy.
In addition to a business owner Ashley is an avid pilot, outdoor enthusiast, and mother of two small boys. Ashley has a passion for a healthy lifestyle and tries to be as active as possible with her family, working daily to achieve a balance between her career and family.
Susan Agrios
President & CEO, AGRIOS Mindfitness
Agrios MINDFITNESS (Mindfulness + Fitness) was born in the connective tissues between health and wellbeing.
Susan Agrios changes lives. Online and in person, she teaches fitness, mindfulness and yoga for people and businesses the world over.
Before MINDFITNESS, Susan was a K-12 teacher and fitness trainer. In the classroom, she inspired her students' curiosities. And as a world medalist herself, she helped recreational to Olympic athletes reach peak fitness. But in both worlds, no matter their efforts, she saw people were stressed and anxious.
Determined to find a fresh way to help, Susan took a leap of faith and set course for India. There she studied yoga and meditation from masters, swamis and gurus.
Then Susan brought those teachings home.
Today, with her holistic expertise in education, fitness and yoga, she inspires people to practice kindness and lead healthier lives—physically, mentally, and socially.
Susan guides schools and businesses to embrace fitness and mindfulness. Through movement and breath, her techniques help others build strong connections to their bodies and minds. The positive effects on focus, emotions and health are profound.
Conferences, hikes and retreats benefit from Susan's kind expertise. Her beKIND Mindfulness and beGRATEFUL school assemblies help students and staff conquer their stress and anxieties.
Susan is also the creator of beKind Mindfitness Triathlons—a first for Canada. And with what is now a global movement, over 20,000 kids, teens and adults have learned to meditate because of her beKIND Mindfulness Challenge.
Simply put, Susan gets results.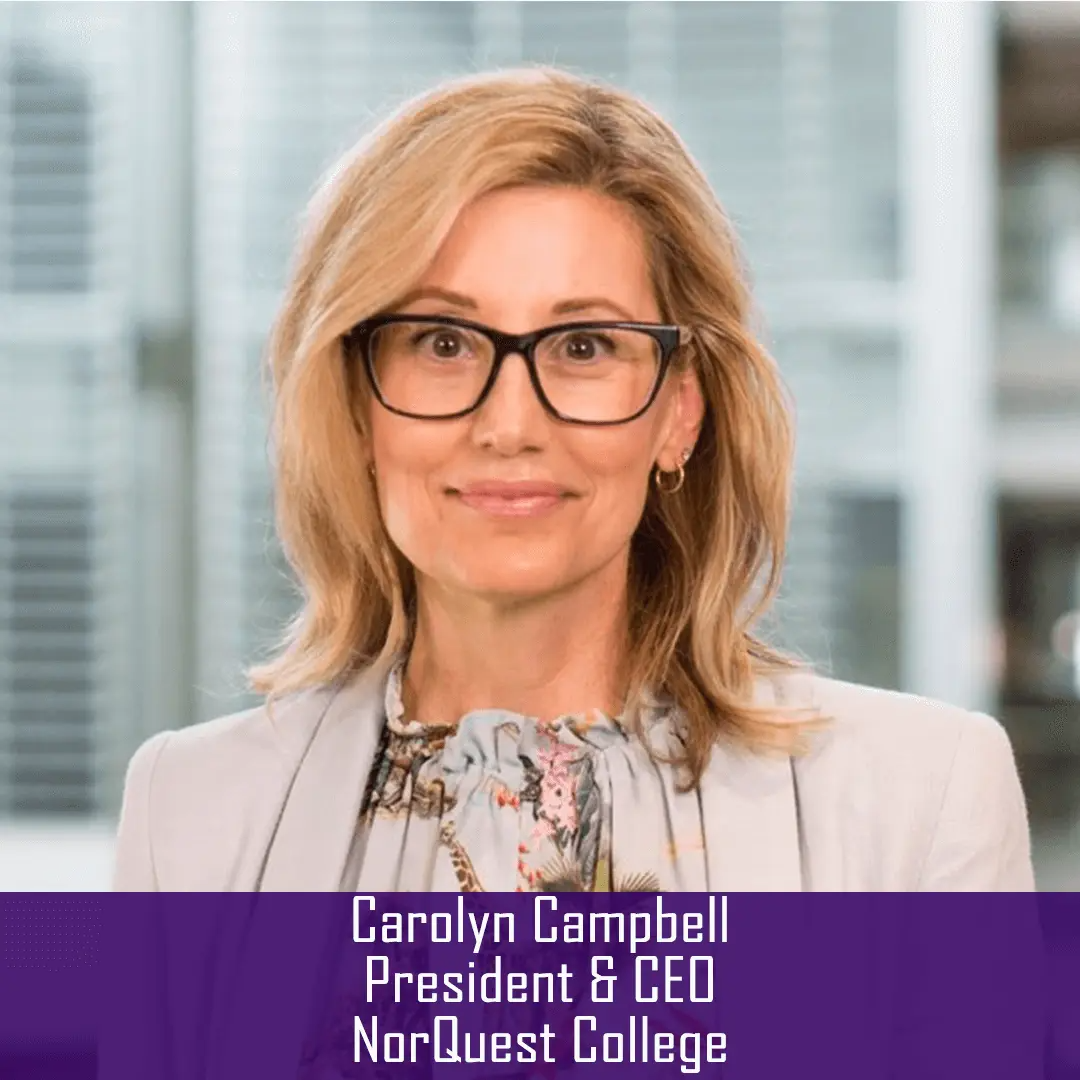 Carolyn Campbell
President & CEO, NorQuest College
Carolyn is a former Deputy City Manager, Deputy Minister of Culture and Tourism, and Associate Dean of Executive Education at the University of Alberta. A proven leader with extensive experience coaching and mentoring other leaders, Carolyn has served on over 25 boards and committees over the past two decades. She has taught in both the MBA and Fine Arts programs as a sessional instructor. Carolyn combines a passion for education with considerable strategic, operational, and crisis management experience.
Carolyn was past Vice-Chair of the Banff Centre for Arts and Creativity's Board of Governors, Chair of United Way of the Alberta Capital Region's Campaign Cabinet, Board member and mentor of the Peter Lougheed Leadership College, and Professional Development Advisory Board member of the University of Alberta's Faculty of Graduate Studies. Carolyn has two undergraduate degrees in Art and an MFA from the University of Alberta and is currently pursuing her doctorate from the University of Oxford researching the board governance of major arts museums and the repatriation of Indigenous objects.
Carolyn is a practicing visual artist and is passionate about enhancing NorQuest's impact into the community and beyond.
Wanda Crantz
Shopping Centre Manager, Harvard Property Management
Wanda's role as the Shopping Centre Manager for Currents of Windermere combined with her stewardship over other projects has gained her a reputation as a fair but firm manager who does what is needed to meet goals and objectives. In addition to Currents of Windermere, Wanda is currently managing a multi-mixed real estate portfolio of 5 properties with over 1.3 million SF of AAA real estate. A number of these assets are still in the growth phases, and upon completion will represent over 1.7 Million square feet of prime real estate in South West Edmonton.
Through her involvement with these properties, Wanda has developed a wide range of abilities enabling her to navigate through each phase of the development and growth of the shopping centre. Her care and watchful eye as well as diligent selection of contractors has allowed her to ensure her buildings are in triple A standing and condition. She has been directly responsible for procuring professional contracts, aligning the fiscal budget needs of base buildings maintenance with the expectations and needs of property tenants, and selecting construction contractors.
During her time as a property manager, Wanda has acted as the face and liaison of the Management Company to tenants, contractors and the public. With her "hands on" experience and expertise, that of her nurtured team, and her local contacts, she is known for being able to deliver the job on time and on budget. She quite simply, gets it all done!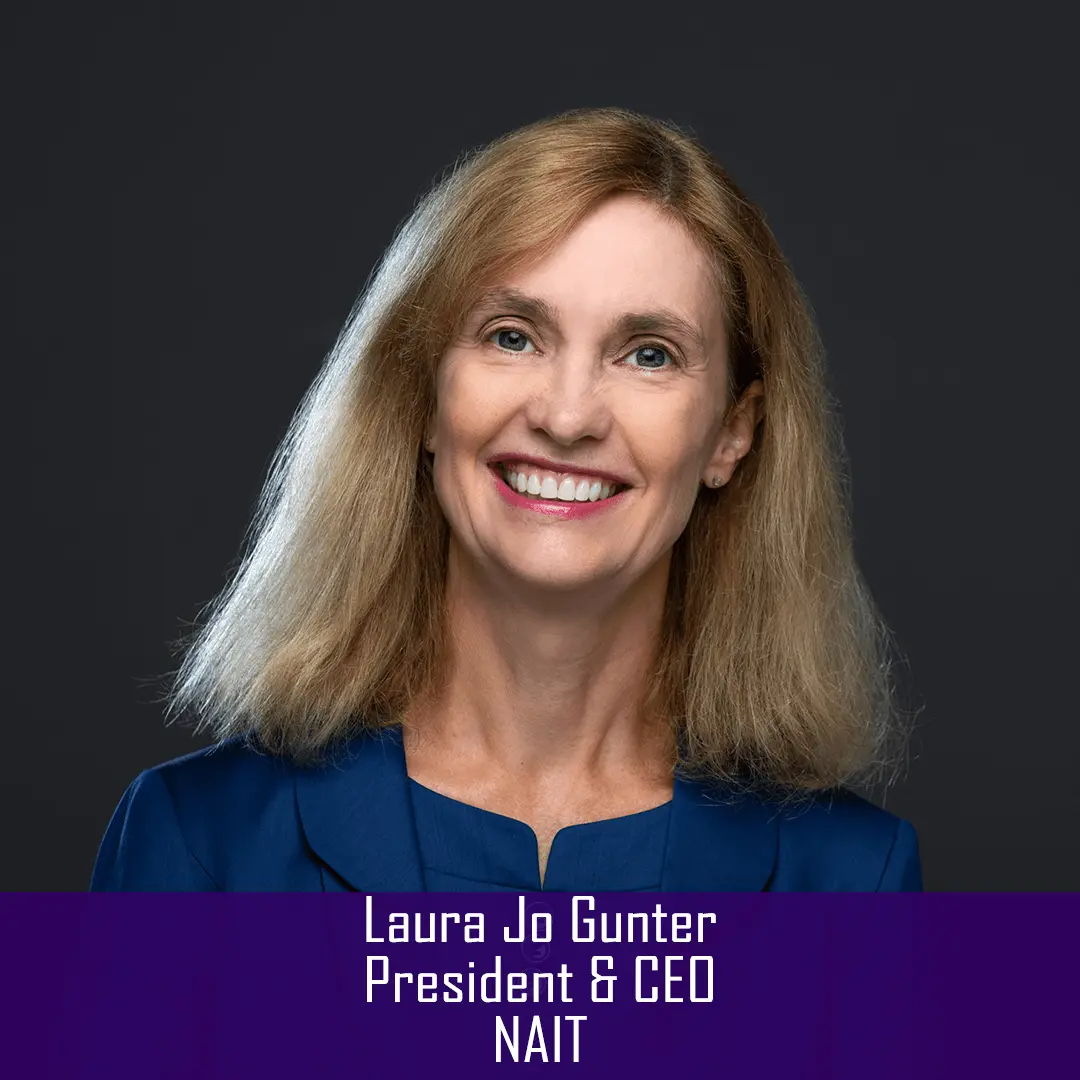 Laura Jo Gunter
Shopping Centre Manager, Harvard Property Management
Laura Jo Gunter became NAIT's seventh President and CEO on August 24, 2020. An innovative leader, she brings extensive post-secondary knowledge and an entrepreneurial spirit to her role.
Prior to joining NAIT, Ms. Gunter was President and CEO of Bow Valley College in Calgary. During her tenure she led the creation of a new strategic plan, Open Doors – Open Minds. She also expanded Bow Valley College's brand locally, nationally and internationally through significant partnerships with global companies. In addition, she initiated Pivot-Ed, a platform that re-imagines adult education to help those needing to pivot in their careers. Pivot-Ed incorporates AI-driven assessments based on workplace simulations and micro-credentialing using blockchain technology.
A community builder, she has also given her time to advancing skills development and post-secondary education and to improving the communities in which she has lived in. She is a member of the Minister of Advanced Education's Skills for Jobs Task Force and a member of the Council of Post-Secondary Presidents of Alberta. She was also a supporting contributor to the Skilled by Design: A Blueprint for Alberta's Future Workforce report by the Business Council of Alberta.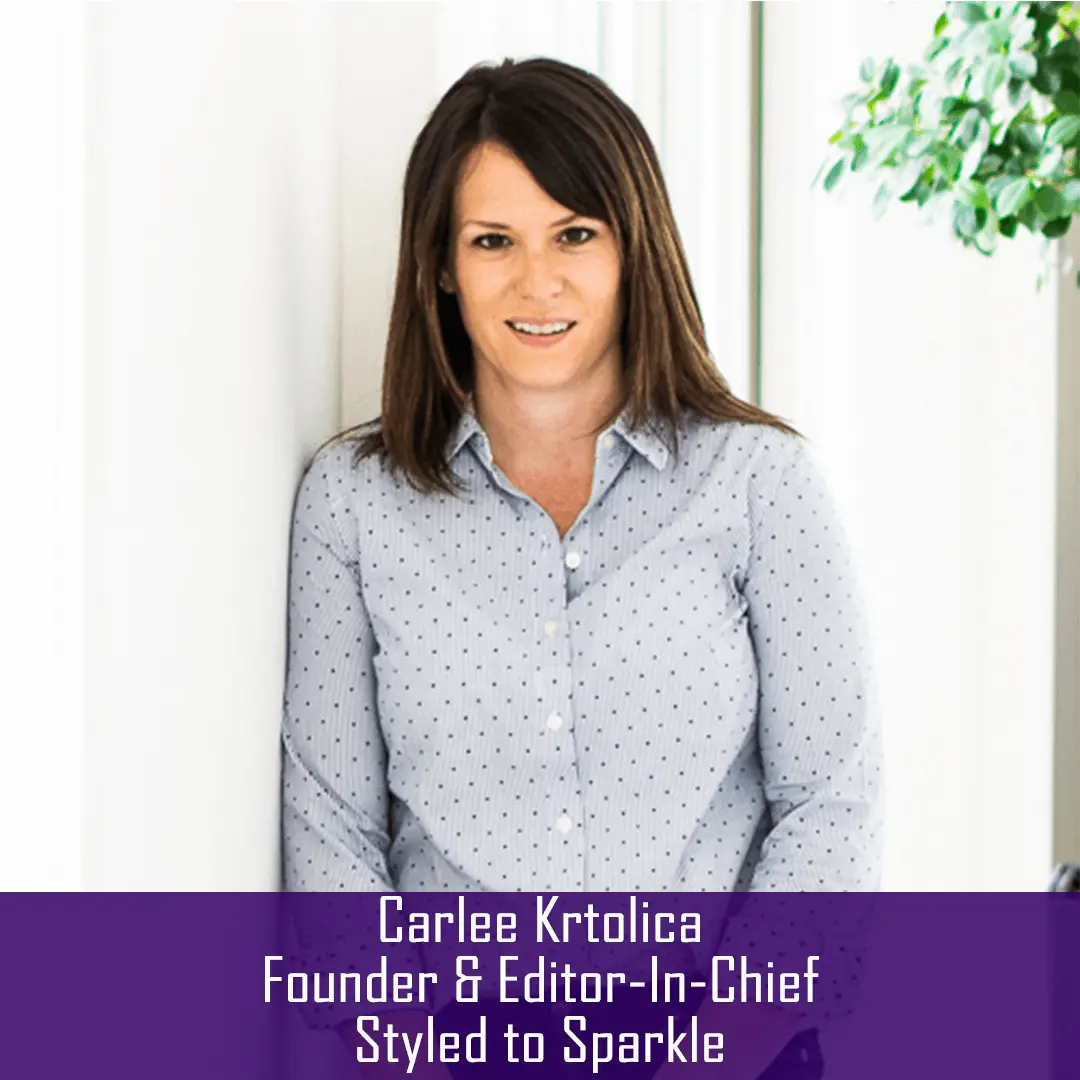 Carlee Krtolica
Founder & Editor-In-Chief, Styled to Sparkle
I'm Carlee and I'm not your typical social media influencer!
Although my blog and social media are a direct reflection of my daily life with my family (I'm a wife, mama to a little baby girl and another on the way, and a fur baby) my life is full of exciting home projects, outdoor adventures, global travel, fine food, wines and spirits and so much more. I'm a freelance interior designer and try to DIY my own home renovation and décor projects as often as I can.
I love to showcase local businesses whenever possible to help spread the word, share my knowledge of blogging, websites and social media with new bloggers and small business owners whenever I can and try to use my platform to give back to the community..
Marcela Mandeville
CEO, Alberta Women Entrepreneurs
Marcela has explored the world of business through a globally focused business undergraduate degree, designation as a Certified International Trade Professional and more than twenty years of global experience developing and implementing business strategies. A career highlight has been taking on leadership roles at Alberta Women Entrepreneurs (AWE) to support AWE's goal to build stronger communities and economies through women's participation in entrepreneurship.
Marcela believes strongly in continuous learning and contributing to the community. In addition to serving as Chair of the Women's Enterprise Organizations of Canada, she volunteers her time on the Explore Edmonton Board of Directors, University of Alberta Professional Development for Graduate Students Advisory Board, Works for Women Advisory Board, and the Edmonton Region Innovation Network Steering Committee.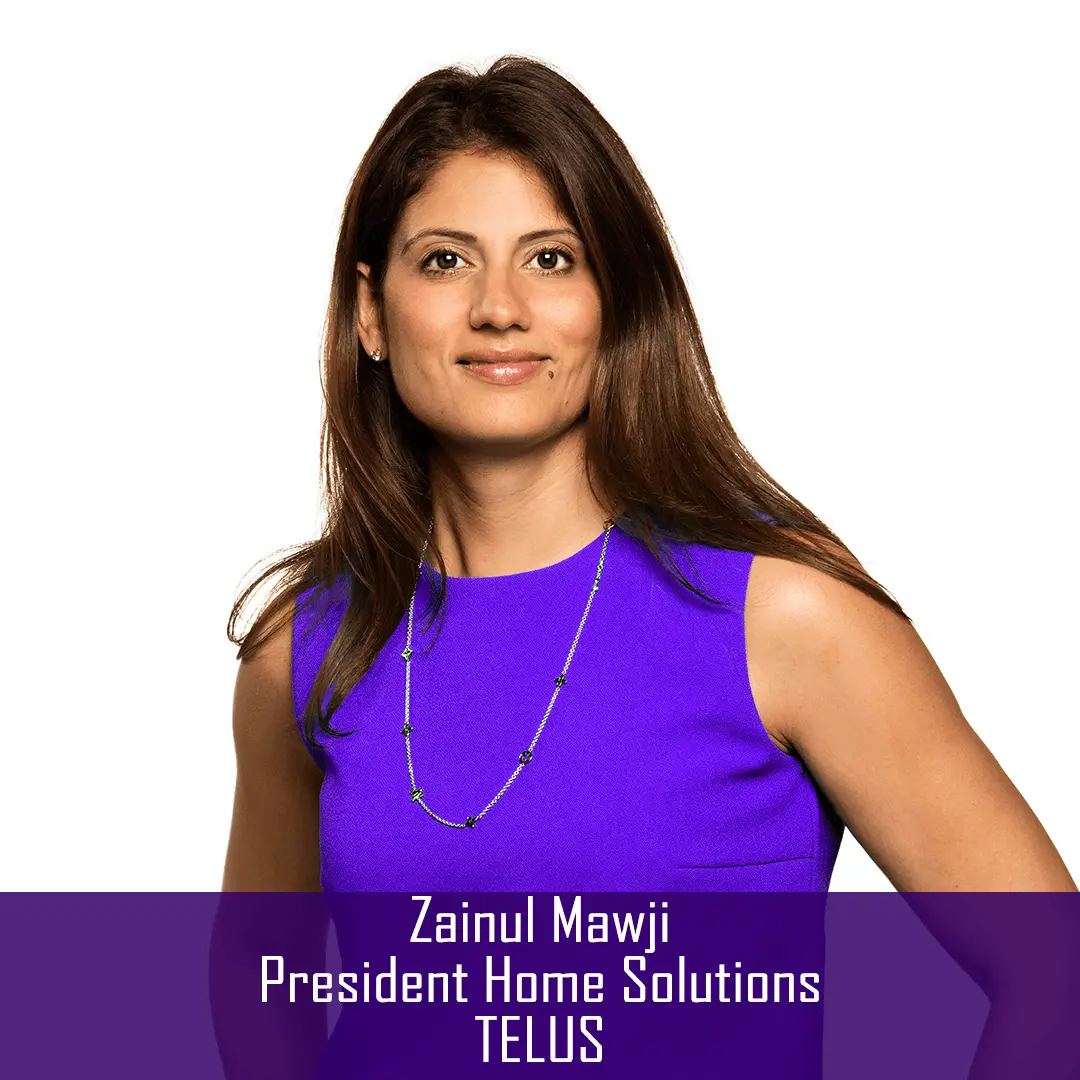 Zaniul Mawji
President Home Solutions, TELUS
As President of TELUS Home Solutions, Zainul Mawji leads the organization responsible for delivering differentiated value to customers and growing market share across Western Canada. Zainul is accountable for several lines of business including: the design and delivery of consumer products and content for our residential market; our small business segment; our security and automation business; and our consumer health product line. Passion for entrepreneurship and technology is foundational to Zainul's approach in championing her team to drive innovative experiences and solutions that improve the lives of Canadians.
Since joining TELUS in 2001, Zainul has held a variety of key leadership roles spanning corporate development, marketing, IT, capital management, strategy and technology operations. Zainul most recently served as Vice-president of Home Solutions & Complementary Channels, where she was responsible for our residential business. Prior to that, Zainul was Vice-president of Market Strategy & Execution for Broadband Networks, where she led the market and sales introduction of TELUS PureFibre, driving strong customer growth across multiple market segments.
Before joining TELUS, Zainul worked in management consulting for PricewaterhouseCoopers and Accenture, with a focus on business strategy development, system implementation and retail operations.
As a strong advocate for TELUS' heartfelt commitment to give where we live, Zainul proudly serves as vice-chair on the TELUS Edmonton Community Board, trustee for the Edmonton Public Library and national member for the Aga Khan Foundation for Canada.
Zainul holds an MBA from the Western University's Richard Ivey School of Business and a Bachelor of Commerce degree from Queen's University.
Mary Michailides
Director / Owner, Maria M Consulting
Maria has a life-long love for learning and leading. She has been blessed to serve in the education field for 39 years as a Teacher, Consultant, School Administrator/Principal, Education Manager with the Ministry of Education and Assistant Superintendent. Maria's commitment to collaboration and supporting a shared leadership model engages her clients develop and strengthen their abilities in maximizing their potential.
As of June 2017, Maria redirected her career and established Maria M Consulting. As a leadership development consultant, she supports school jurisdictions and businesses in building transformational leadership practices that engage all members of a team to work collaboratively in achieving collective success. Maria has presented locally, nationally and internationally in the areas of assessment, leadership, organizational change and business and school culture.
Maria was a founding member and Chair of the Zebra Child Protection Centre, the first of its kind in Canada. She is proud of the work that has been accomplished in support of the most vulnerable population in Edmonton and surrounding areas.
Maria's commitment to the statement; Live Well...Lead Well is embedded in her work as coach/mentor with system and business leaders. She is also involved in supporting and mentoring young entrepreneurial women by empowering them to find their passion and 'Imagine the Possibilities".
With her loving husband of 35 years and their 3 adult daughters, Maria is often engaged in 'live well' activities including; cross country biking, traveling, skiing, and playing soccer.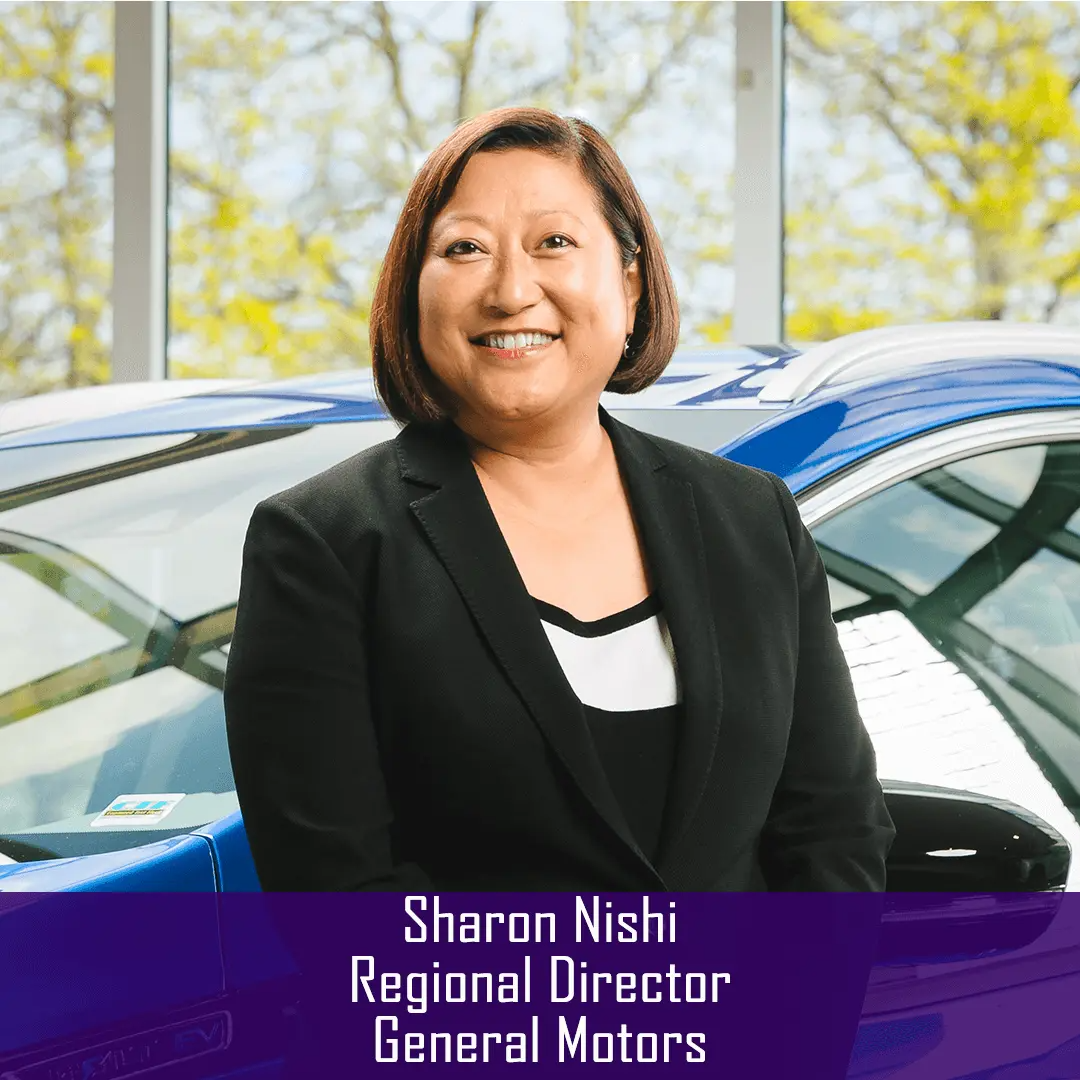 Sharon Nishi
Regional Director, General Motors
Sharon Nishi is currently a Regional Director at GM of Canada based out of Oshawa, Ontario. She is responsible for leading a team of 40 people driving approximately 40% of GM Canada's sales through 150 dealerships in Ontario. She also leads GM Canada's Women's Retail Network to support and mentor women in the automotive retail business.
Nishi has over 30 years of experience with GM. Originally from Vancouver, she joined General Motors of Canada in 1986 after graduating from UBC Sauder School of Business. As a District Manager for 6 years, she was the primary sales and aftersales contact for over 50 GM Dealerships in Western Canada. In Alberta, she worked with dealers from Fort McMurray to Airdrie and Lloydminster to Rocky Mountain House.
In subsequent years, she moved to GM Canada's headquarters in Oshawa and progressed through several roles in marketing and advertising.
In 2004, Nishi transferred overseas with GM and worked out of Shanghai, China in various sales and marketing roles to grow GM's brands and dealer network in Asia. In 2008, she became the Director of Sales and Marketing in Latin America, Africa and Middle East and in 2009, returned to Shanghai to head Marketing for GM's International Operations spanning 5 continents. In 2013, Sharon transferred to GM's joint venture in China to lead and grow Chevrolet to a record breaking 700,000 sales.
After 12 years overseas, she returned to GM Canada in 2016.
Nishi is married to a very supportive husband. She has moved ten times with General Motors and has now visited 73 countries but is still up for the next adventure.
Jackie Rainforth
President, Rainmakers Group
After a near-death scuba diving incident and 3 days clinging to life, Jackie's life dramatically changed. Her own sales success now seemed hollow.
As a highly certified, award-winning sales expert, facilitator, and sought-after conference speaker Jackie Rainforth founded Rainmakers Business Solutions, finding incredible success with her unique and 'modern yet simple' selling programs. Her passion was now helping sales people, business owners, professionals and organizations to be more confident and successful in business and in life and achieve average increased sales results of 20% or more!
Proven incremental and accountability 21+ hour sales programs ensure individual tasks and challenges are mastered before moving on. The programs and workshops available are designed to take you or your team to an elevated levels of productivity and performance... but faster!
Now, this dynamic 'RBC WOMAN ENTREPRENEUR OF CANADA' award nominee is a much sought-after trainer and conference speaker sharing the proven sales strategies that will take your sales results and performance from stalled to unstoppable!
Author of the The Badass Guide to Superstar Selling AND The Badass Guide to Selling During COVID, Jackie's superpower is your sales empowerment.
Now is the time to out-think and out perform your competition and gain the competitive edge while creating the sales results, revenues and income you need to succeed!!
Bridget Ryan
Owner & Creative Director, Carter-Ryan Gallery
Bridget Ryan is an actor, singer, playwright, director, and television host in Edmonton, Alberta, Canada. She graduated from MacEwan Theatre Arts program (and in 2008 was awarded Distinguished Alumni) and then went on to graduate from University of Cincinnati's College Conservatory of Music with a BFA in Musical Theatre. Upon completion, she moved to New York City, performing at several Off-Broadway theatres such as at The Cherry Lane Theatre and The Present Company. She has performed in several national tours before getting off the stage to work alongside producers Richard Frankel, Marc Routh, Darryl Roth and Scott Rudin.
Bridget has performed at theatres all over Canada and written four full length musicals including The Winters Tale Project and Wedlocked: The Musical (both with Chris Wynters) and the plays Myles, The HypoAllergenic Superhero and His Superhero Friends, Counting Americans and SuperWoman to name a few and has been published by the Playwrights Guild of Canada. She returned to Edmonton in 2001, where she became Co-Host of CityTV's Breakfast Television thru May 2015, when it rebranded as 'Dinner Television'. In 2010, she was named Woman of the Year by the CCA's in Edmonton. Bridget has proudly MC'd and hosted hundreds of events in Edmonton (and surrounding areas) over the past 13 years and is proud to be a part of such an amazing community.
Bridget has written four children's book to date: WHO IS BOO: 1, 2 AND 3 (illustrated by Jason Carter) as well as Urban Animals.
In winter of 2012, Bridget and visual artist Jason Carter opened up The Carter-Ryan Gallery and Live Art Venue in Canmore Alberta on Main Street, a place where art and live performance exist happily under the same roof. Jason Carter and Bridget Ryan started Rabbit In The Yard Productions , a multi-media production company that produces short films and music video's and most recently, she created and produced the Fairmont Banff Spring's The Art Of Waiting campaign May 2020.
In the summer of 2017, Bridget wrote, directed and produced Canada The Musical, ROCK STARS and The Adventures of the Curious Bear In The Red Canoe in Banff and Canmore Alberta, hiring a company seven of professional actors, musicians and stage management. Since then, thousands of locals and tourists have taken in Canada The Musical and ROCK STARS each summer in both Canmore (at the Carter-Ryan Live Theatre Venue) and Banff. Also in 2017, Bridget adapted and directed a five person version of Christmas Carol which plays every year at Fairmont Banff Springs Theatre. This year, the performance has a new twist due to the current safety standards with performing, and is adapting the show to The Christmas Carols - three singing, swinging songstresses who tell the tale of Christmas Carol - safely and securely through song!
Bridget is currently working with Banff Lake Louise Tourism as one of the creative directors on the first inaugural Banff Christmas Trail while also in preproduction for Carter-Ryan's first full length feature shooting Jan/Feb 2021.
Kelly Vanderbeek
Broadcaster & Olympic Downhiller
Kelly doesn't fit into a box. She takes on challenges with fearless ambition as a lover of people, of stories, and of connection. With over a decade of experience as a professional athlete and now a decade of work as a broadcaster and photographer, Kelly's resume is extensive. Among other things, Kelly is a World Cup Medallist, Olympian, TV Host at the Olympic Games, and the primetime host of the Calgary Stampede. Kelly also works hard to support the next generation of athletes through her efforts on the WinSport Board of Directors and behind the scenes with multiple sports & charitable organizations. Professionally, Kelly splits her time between broadcasting, event keynotes & MC, and her artistic pursuits as a photographer & painter.
Razina Visram
CEO, Cocentric Solutions & TEC Canada CEO Chair
As global leader and public speaker, Razina Visram is a highly accomplished CEO and entrepreneur, with over 25 years in professional services where she has worked in multiple industries from utility, mining, energy, IT and others. She leverages her extensive experience in coaching and consulting with an emphasis on managing change.
In 2003, Razina founded Cocentric Solutions Inc., a boutique management consulting and coaching company where she understands the pressures of delivering results while managing risk effectively. Her change management expertise has successfully impacted stakeholders in groups ranging from 10 to as many as 90,000 employees on a single project which not only achieved project objectives but also reduced silos leading to cost efficiencies, employee cohesiveness and brand alignment for the organization.
Celebrating 17 years in business with Cocentric has taught Razina to let go at times and allow the situation to unfold. This was never truer than in 2018 when she successfully climbed Mount Kilimanjaro supporting WaterAid. "My goal was to get into shape and make donors proud by reaching the summit. Instead, it was a powerful personal lesson on trust and surrendering to the presence of the unknown of each moment, and let it all be about the journey and not the destination." she said.
As a certified executive coach, Razina enjoys helping others grow and learn; assisting them to reach their impossible futures. Her extensive knowledge and experience also supports her in her role as a Chair for a peer-to-peer advisory group of CEOs /Business Owners with TEC Canada.
Kristy Wolfe
Special Initiatives Director, Wolfe Automotive Group
Kristy Wolfe's experience as a medical mom lies at the heart of her passion for documentary style photography. Based in Canmore, Alberta with her husband and two sons, Kristy has been telling stories through photography for the past 8 years. She is also an educator, speaker and one of the Directors of Special Initiatives with the Wolfe Automotive Group.
When Kristy's son, Kane, was born 8 weeks early in 2012, she had her camera with her during most of the 54 days her family spent in the NICU. Six months later she began sharing her family's story through images, photographing their time in the hospital during Kane's heart surgery in 2013 and again in 2019. Kane is one of the Wolfe Pack Warriors.
Kristy shares her family's medical journey and teaches others how to narrate their own experiences through photography.
As a certified executive coach, Razina enjoys helping others grow and learn; assisting them to reach their impossible futures. Her extensive knowledge and experience also supports her in her role as a Chair for a peer-to-peer advisory group of CEOs /Business Owners with TEC Canada.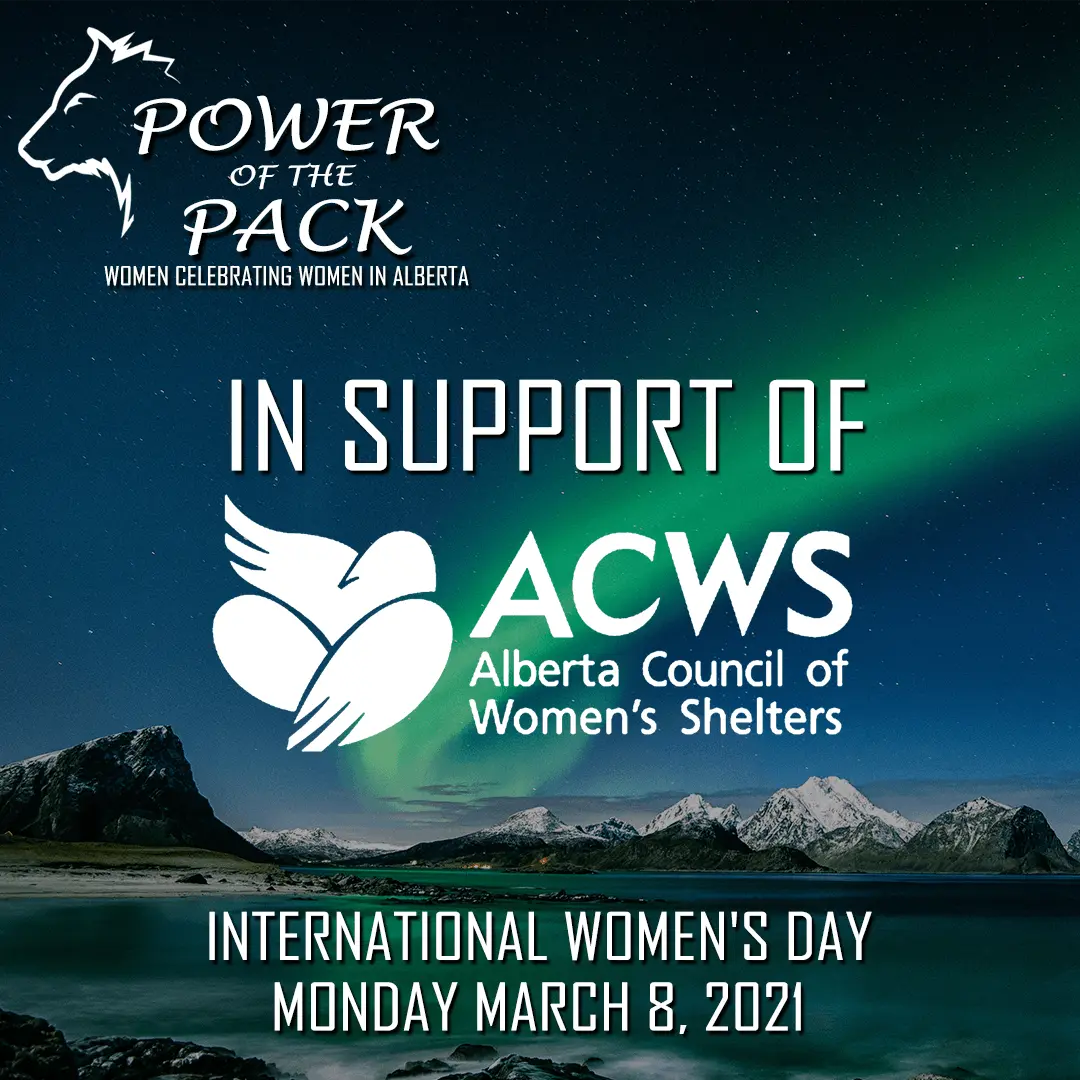 Donate Now
---
SPEAKING ON DOMESTIC VIOLENCE
Jan Reimer
Executive Director
Alberta Council of Women's Shelters
Jan Reimer
Executive Director, Alberta Council of Women's Shelters
Jan Reimer's accomplishments have been remarkable and widely acknowledged. She was recognized as Edmontonian of the Century, received the Queen's Golden and Diamond Jubilee Medals and is one of the YWCA's Women of Distinction. Jan was one of six Canadians who received the Governor General's Award in Commemoration of the Persons Case (2006).
What is exceptional about Jan is the depth and breadth of her work and passion. Whether contributing to society at large as Mayor of Edmonton, City Councilor, or private citizen, Jan consistently enables social development.
In her current role as the Executive Director for the Alberta Council of Women's Shelters, (an organization that supports the sheltering movement in Alberta and works to end violence against women), Jan is a well-known resource on gendered violence prevention and intervention. She has served as the Executive Director of ACWS for over a decade.
Under her leadership, the Alberta Council of Women's Shelters hosted the first ever World Conference of Women's Shelters. More than 800 delegates from 51 countries attended. As a result of this conference, shelters were able to exchange practices and learn from one another. The conference also provided the impetus for both a Canadian and a Global Network of Women's Shelters. Jan Reimer is a founding member of both organizations and was invited in 2015 to present at the 3rd World Conference of Women's Shelters in The Hauge, Netherlands. The fourth World Conference was held in Taiwan in 2019.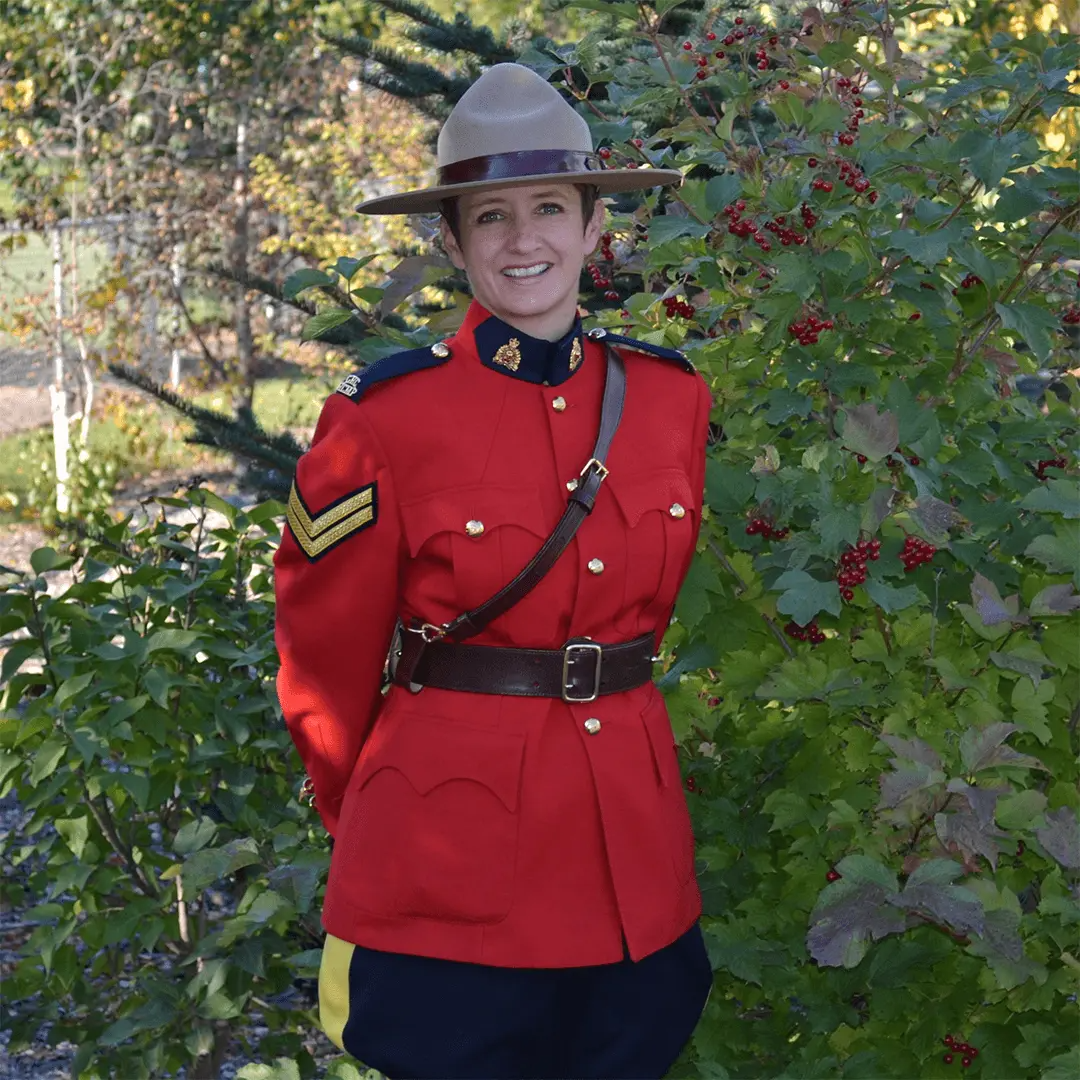 Colette Zazulak
RCMP
Staff Sergeant
Colette Zazulak
RCMP Staff Sergeants
As the Staff Sergeant in charge of Community Policing for the Alberta RCMP, Colette oversees a variety of program lines. These range from Domestic Violence and Mental health to Hate crimes, Diversity, Victim Services, Youth Programs, and Restorative Justice. Colette is a certified Threat Assessor, having completed a two-year understudy with the Integrated Threat and Risk Assessment Centre (ITRAC), where she went on to become the Operations Manager. She has extensive experience delivering training, and has traveled throughout Alberta and the NWT teaching police, Crown, Probation and community agencies about domestic violence and stalking, along with how to conduct child sexual abuse investigations. Colette has over 25 years with the RCMP, and was the first Domestic Violence coordinator for both the Alberta Justice and Solicitor General and the Alberta RCMP.
Colette started her career in 1993 with a degree in Criminology from the University of Alberta and began with federally sentenced inmates in correctional institutions. She soon realized that her passion was helping women and children, and has devoted the majority of her policing career to this. She has received the Queen's Golden Jubilee Medal, an Alberta Justice and Solicitor General Community Engagement award, and sits as a subject matter expert for the Office of the Child and Youth Advocate for reviews of children who have died in Alberta while receiving intervention services.
Colette has a strong love for children, and now that her own are 16 and 18 years old, she finds her joy in being a Brownies leader, which allows her to mentor young girls while having silly fun and lots of laughs!
Donna Zazulak
Special Initiatives Director
Wolfe Automotive Group
Donna Zazulak
Special Initiatives Director, Wolfe Automotive Group
Visionary. Philanthropist. Spiritual Advocate. Wolfe Pack Warrior.
It is impossible to sum Donna up with just a few words, or even a couple of paragraphs. Her boundless energy and get-it-done approach have allowed her to help numerous people, inspire communities, and be recognized on an international stage.
Currently, she is putting her talents and passions towards her role as the Special Initiatives Director for the Wolfe Automotive Group. She is proud to be a "Wolfe Pack Warrior" working side-by-side with Kristy Wolfe and their team. Together, her and Kristy manage the charitable arm of the Wolfe Automotive Group. Using her vast knowledge of the community and numerous connections has allowed her to develop initiatives that have helped organizations such as the Mustard Seed, Meals On Wheels & the Boyle Street Community deliver over 50,000 meals to those in need. Her unparalleled ability to inspire and garner support has resulted in campaigns to raise funds and awareness for the Stollery Children's Hospital, the Alberta Children's Hospital, the Lois Hole Women's Hospital, the Capital Care Foundation, the Can Man Dan Foundation, and the Fort Edmonton Park Community Foundation, to name a few.
Prior to her work with the Wolfe Automotive Group, Donna developed a well-rounded portfolio with over 35 years in a broad range of industries including retail management, media, sales, sponsorships, event planning and fashion. Donna is most proud of being the first Fashion Director for West Edmonton Mall, where she opened all three phases, and was responsible for branding the mall as the "World's Largest Fashion Centre". A close second for Donna is having been the 2013/2014 Festival of Trees Chair supporting the University Hospital Foundation.
Donna has been a trailblazer and role model for her community. People in general, and numerous non-profit organizations and boards, have looked to Donna for guidance and vision. Her advocacy on behalf of others has earned Donna many nominations and awards, including the 2006 YWCA Lifetime Achievement Award, 2009 Global Cities Award World of Difference Award in Community Service, the 2009 International Alliance for Women (TIAW) World of Difference 100 Award, and the Media Award with the Kidney Foundation of Canada as well as numerous International Council of Shopping Centre awards.
While excelling professionally, a major obstacle touched Donna's life personally. She experienced what it was like to live in a domestic abusive relationship. This experience coupled with her charitable work moved her to develop a campaign in 2011 with Edmonton City Centre to "end domestic violence". This campaign supported the Alberta Council of Women's Shelters, and it brought awareness in the community to assist in ending domestic violence. In June 2011, Donna was graced with the "Global TV, Edmonton Woman of Vision" award. Her campaign to "end domestic violence" with Edmonton City Centre earned a 2012 ICSC Foundation Community Support Award.
Donna is an entrepreneurial dynamo in our community. Being the Special Initiatives Director for the Wolfe Automotive Group is a position that she is extremely proud of. Donna works towards making a difference in her community with every campaign that the "Wolfe Pack Warriors" team creates.
---